Social Network
Vivaldi Store
Show your support for Vivaldi by getting a Vivaldi t-shirt, mug, water bottle, stickers and more. We deliver worldwide.
Contribute
Do you like Vivaldi and share our company values? Get involved to support our mission and help us grow!
There are different ways for you to help, depending on how much time you want to invest and what your interests are. We'd love to have you on board!
Member spotlight
cynical13
Hi! My name is Jeff and I'm from Missouri, US.

I've been using Vivaldi since 2017 on Windows, Linux and Android.
My top 5 Vivaldi features are:
Mail
Window Panel
Ad and Tracker Blocker
Tab Stacks
Workspaces
What I love about Vivaldi Community is seeing the different blog posts. There are a lot of people with a lot of very varied interests.
Interesting fact about me: I've been a guest blogger – https://vivaldi.com/blog/the-privacy-price-of-free-food/.
Want to be featured here? Fill out this form.
Tip of the day
Tip #359
Press Ctrl + Enter to send a message in Vivaldi Mail.
Latest Vivaldi versions
Latest from the team
Announcing the launch of Vivaldi on iOS – a new browsing experience available now on the App Store.
Enjoy new features and improvements in Vivaldi Social, our social media platform. Get it here social.vivaldi.net.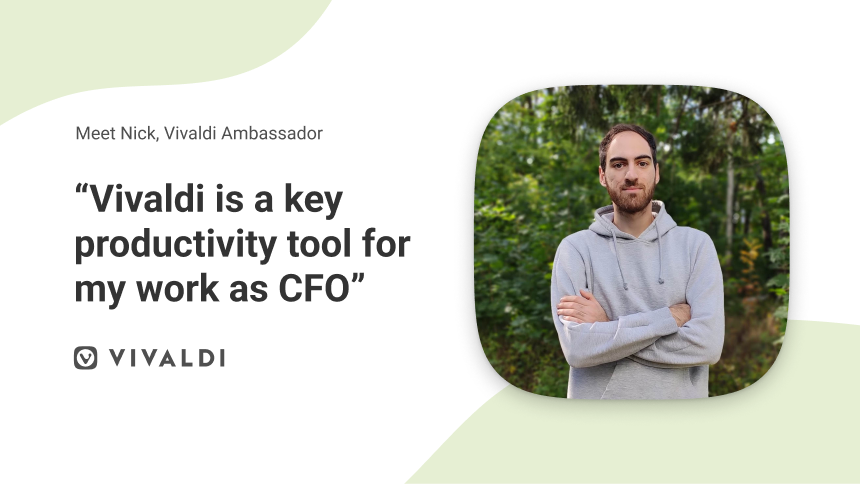 Workspaces and Tab Stacks in Vivaldi browser have transformed the way people work. One such case is Nick Tsakiris, CFO at SuBtech Sports. Read more about it.
Featured Community blog posts
… the joy of buying a new car? It's been over a month but it seems like forever that we've been looking for a new car for my daughter. It sure isn't like the old days.…
2 days ago
By dougpete
Speaking less has its benefits. You expend less energy. You are less misunderstood. You do not have to tailor-make your words for the audience concerned, You become a silent observer of things both necessary as well as…
3 days ago
About fifteen years ago, I was a painter.  I lived in the Northwest at that time and made semiabstract paintings which I sold to, mostly, a limited number of collectors that I knew.  I never sold enough work to live on…
1 week ago
By daletucker