Vivaldia 2 is right around the corner! Play it here and give your feedback.
Social Network
Vivaldi Store
Show your support for Vivaldi by getting a Vivaldi t-shirt, mug, water bottle, stickers and more. We deliver worldwide.
Contribute
Do you like Vivaldi and share our company values? Get involved to support our mission and help us grow!
There are different ways for you to help, depending on how much time you want to invest and what your interests are. We'd love to have you on board!
Member spotlight
Pesala
Hi! My name is Bhikkhu Pesala and I'm from East London, UK.

I've been using Vivaldi since 2015 on Windows.
My top 5 Vivaldi features are:
Built-in Email client, with RSS Feeds.
Customisable Keyboard Shortcuts, Mouse Gestures, Menus, and Toolbars.
Built-in blocking of ads and tracking cookies.
Editable Themes and icons for toolbars.
Saved sessions and startup with last session.
What I love about Vivaldi Community is the quick replies with helpful tips and workaround with CSS or Command Chains.
Interesting fact about me: I have been a Buddhist monk since 1979. I enjoy helping others to make good karma. Before Vivaldi, I used Opera Presto since 1993.
Want to be featured here? Fill out this form.
Tip of the day
Tip #352
Take the odd one out by removing a single tab from a Tab Stack.
Latest Vivaldi versions
Latest from the team
The EU Digital Markets Act (DMA) will put an end to unfair practices by companies that act as gatekeepers in the online platform economy. Read our open letter to the EU Commission expressing concerns over Microsoft's anti-competitive practices.
Cars using Google's Android Automotive OS will now have access to the Vivaldi browser in Google Play.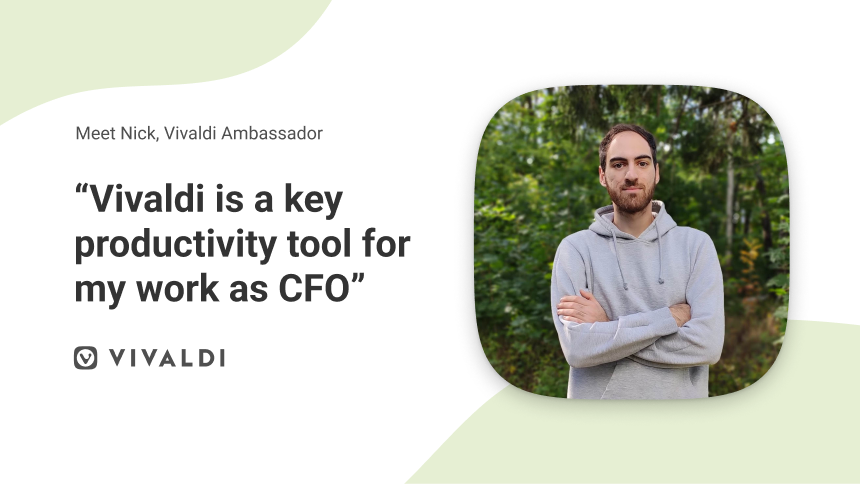 Workspaces and Tab Stacks in Vivaldi browser have transformed the way people work. One such case is Nick Tsakiris, CFO at SuBtech Sports. Read more about it.
Featured Community blog posts
I recently played a game text-based strategy adventure called Seedship, by John Ayliff. Tells the story of space exploration to discover a "new earth". I got the ending with a fairly high score, and discovered the level…
3 days ago
By daniel950
Writers live twice. They go along with their regular life, are as fast as anyone in the grocery store, crossing the street, getting dressed for work in the morning. But there's another part of them that they have been…
1 week ago
By Cezar